Floyd Mayweather RICHEST ATHLETE!!!....Passes Tiger Woods!!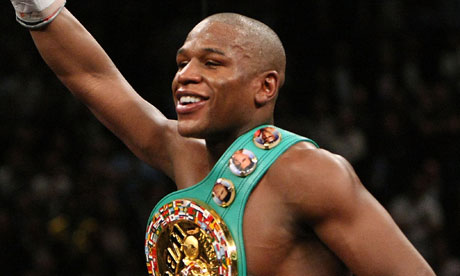 There is a reason why Floyd Mayweather's nickname is "Money."

There was no doubt that Floyd Mayweather is an amazing business man, but for those of you who did not know to what degree, this puts things into perspective.

Here is what Forbes reported...



:
Floyd Mayweather fought twice during the past 12 months, knocking out Victor Ortiz in September and winning a unanimous decision in May against Miguel Cotto. He spent less than one hour in the ring.

His combined payday for the bouts: $85 million.

That helped make Mayweather the world's highest-paid athlete over the past year, unseating Tiger Woods, who has been the top-earner since 2001.

Woods ranks third this year with earnings of $59.4 million.

Mayweather maximizes his earnings by also acting as his own fight promoter through his company Mayweather Promotions. He collects all of the revenue from tickets, pay-per-view and sponsorships and covers the costs, including the purse for his opponent.



In case you are wondering, Manny Pacquio is in second place, Tiger Woods third and Lebron James in fourth.